So, the COVID-19 pandemic has forced you to rethink your wedding plans? What will you do? Should you consider whether to reshape your wedding plans?
If you're just starting out planning your wedding, I recommend you read my article on How To Plan Your Wedding During the Coronavirus (COVID-19) Pandemic.
Do You Need to Postpone and Choose a New Wedding Date?
If you're already looking at postponing your wedding date, please check out my article on How to Choose a New Wedding Date (Thanks, Coronavirus!)
While you're thinking about a new date, it may be a good time to think about whether or not you want to reshape your celebration.
Before deciding what to do, please consult the CDC and WHO for their current recommendations.
Ways to Reshape Your Wedding Because of COVID-19
There numerous ways to rethink, redesign, and reshape your wedding during the Coronavirus (COVID-19) pandemic.
Intimate Wedding
Depending on how rescheduling your event goes, you may determine that it makes more sense to have a smaller, more intimate wedding with just close family and friends.
This might also allow you to have your event even though there might be restrictions on events larger than 50 people.
Elope!
Perhaps you will choose to get away some time in the future, just the two of you, and have a large celebration in the future with your wider circle of friends and family.
Live Stream
Technology is helping a lot of people leverage this situation by allowing us to still connect despite the physical distance between us.
You can have an intimate ceremony with your witnesses, the officiant, and probably a photographer (shameless plug), and live stream the event to your guests wherever they might be. Then, you can all get together later on for a big celebration once the pandemic has passed.
Special Rates for Intimate Weddings and Elopements
Since there is bound to be an upswing in smaller weddings and elopements for the rest of this year, I will be offering special rates to couples planning smaller events and elopements. Please contact me for details.
Ways To Honor Your Original Wedding Date
If you're rescheduling and you still want to honor your original wedding date, here are a few ideas on how to do that:
Get Dressed Up and Dance to Your First Dance Song
You've probably been sitting around in your pajamas/sweat pants/yoga pants for days on end since this lock down has begun. When your original wedding date arrives, get dressed up and put your first dance song on while you go live on Facebook or Instagram. Of course let your family and friends know beforehand so you can share the moment with them.
Do A Faux Wedding Photo Shoot
Again, get yourself dressed up and pretend it's your wedding day. Snap some selfies doing some cliche wedding poses and post them to social media!
Take a Honeymoon in Your House
Pretend to go on vacation in your house. Dress it up with whatever you have laying around to make it look like an exotic locale!
Artist Jennifer Baer created some vintage looking posters for vacationing in your own home: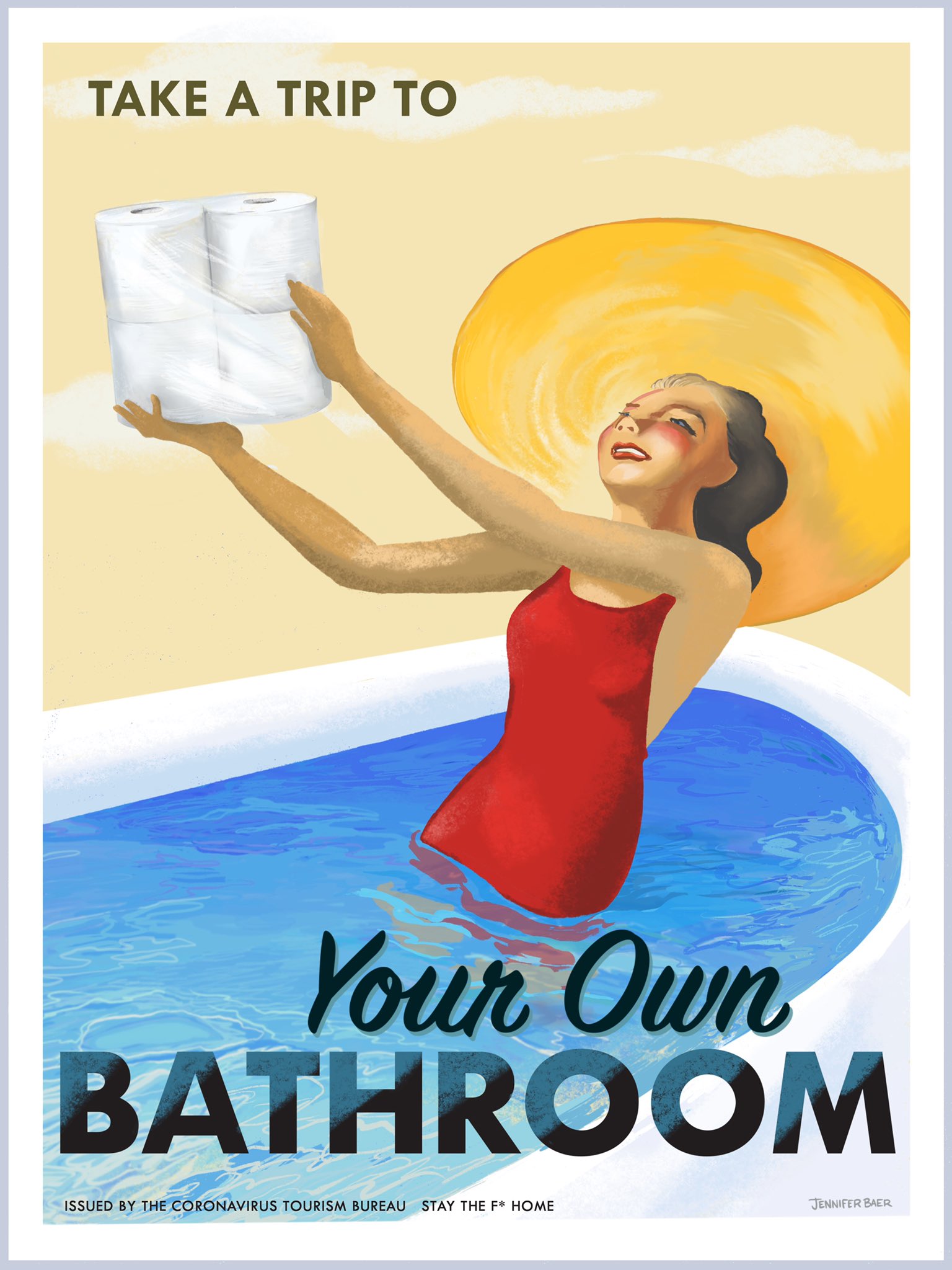 Have fun with it. Take some faux honeymoon photos from your pandemic bunker!
Have Other Ideas? Questions?
Do you have other ideas on how to rethink your wedding during the COVID-19 pandemic? Let me know.
And if you're feeling overwhelmed or have questions about what you can do, please think of me as a resource and contact me so we can talk!